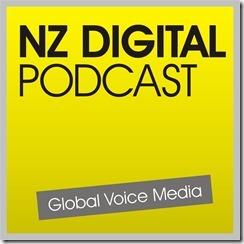 Auckland, NZ: 6pm, 26 March 2013 – Today a new podcast aimed at the broader digital community in NZ has launched. The podcast is targeted at those involved in the areas digital marketing, media, online, social media, advertising, film/TV, software and digital entrepreneurship.
The NZ Digital Podcast comes from Global Voice Media who produce the NZ Tech Podcast which has consistently ranked as the top local dedicated* podcast listened to in New Zealand since early 2011.
"New Zealander's want every opportunity to excel in leveraging the newest forms of digital and social media. The NZ Digital Podcast has been launched to support the existing media and events that exists for this dynamic nationwide community. Over the coming months we hope to establish this podcast as an essential tool for digital practitioners – in the same way the NZ Tech Podcast has become so broadly adopted by the local tech community" says founder Paul Spain.
In the first episode the podcast focusses on the growing importance of mobile as Paul Spain joins John Lai (Social Media NZ) in speaking with Derek Handley as he launches Snakk Media on the NZAX. Derek Handley, now based in New York, is well known for his success with SMS and mobile marketing company The Hyperfactory which he sold in 2010 to Meredith Corporation.
Spain remains tight lipped on specific future guests for the NZ Digital Podcast, however he indicated guests previously featured on the NZ Tech Podcast provide a good idea of the types of guests to look forward to. He also notes many who have been hosted as NZ Tech Podcast guests will be invited to feature on the NZ Digital Podcast in the months ahead. Previous NZ Tech Podcast guests include:
· Alan Mulally – CEO – Ford
· Alec Ross – Senior Advisor for Innovation to Secretary of State Hillary Clinton – US State Department
· Emily Banks – Associate Managing Editor – Mashable.com
· Gregory Lee – President and CEO, Samsung Asia
· Kim Dotcom, Mega.co.nz
· Mitch Olson – Co-founder, Outsmart/Smallworlds
· Peter Maire – CEO, Fusion Electronics
· Raffi Krikorian – Twitter
· Russell Stanners – CEO, Vodafone NZ
· Xzibit – Rapper, Actor, Host of MTV's 'Pimp My Ride'
The NZ Digital Podcast can be streamed directly from NZDigitalPodcast.com as of today, and is expected to be available on iTunes and other podcast services within the next week.
Initial episodes are also being distributed to the NZ Tech Podcast audience via the existing iTunes feed here. New episodes will be released once or twice each month.
*i.e. Podcasts not syndicated from a radio or TV show
Read More

»